Civil War
Civil War Relics for sale. Dug relics and non-dug relics of all kinds. Civil War documents, images and other artifacts.
---
CDV of Gettysburg Commander George G. Meade

Item #: JMS-84

Click image to enlarge
Very nice engraving-style CDV of Gettysburg commander George Gordon Meade. The image is in excellent condition with just the tiniest stain on the left of the carte, not affecting the image at all. If this carte has been trimmed, it is almost imperceptible. Blank back, aside from a period pencil ID. This is not a "from-life" image. But bear in mind that a from-life photo of General Meade...who is very, very common...will usually run about a hundred bucks. And he can fetch much more if it's a Brady or an unusual pose. This is an engraving original to the Civil War period and it would be an ideal accent or compliment to a Meade autograph, letter or even a framed Gettysburg relic of some sort.
General Meade is, of course, best known for his victory over Robert E. Lee at Gettysburg. But his service to our country certainly extends beyond that. He fought in both the Seminole and Mexican Wars. He was instrumental in the construction of coastal defenses before the Civil War. And during the war, he sustained a severe battle wound at Glendale (or "Frayser's Farm"), Virginia in 1862. He was instrumental in the Union victory at South Mountain, Maryland in September of '62. He was also wounded in action at the battle of Antietam, a few days after South Mountain. In the Union disaster at Fredericksburg, Meade's men were among the few federal troops to have any success. His Gettysburg record is well known, of course. And after that decisive battle, he commanded with a mostly effective ability...with the exception of some tactical errors at Cold Harbor and Petersburg.
If you are collecting images of Civil War generals, Meade is certainly a "must".
IF YOU WANT TO ORDER AN ITEM…
(or just ask a question about it) please email me directly at cwartifax@gmail.com
Using the "Order Information" button right below the price USUALLY works, but not always.  I don't know why, but it could have to do with spam settings on either end. The easiest way to order or inquire about an item is simply to email me directly.  Again, my email address is cwartifax@gmail.com
Shipping Weight: 0.1 lb
Your Price... $27.00 USD
---
Nice CDV of General Philip Sheridan

Item #: JMS-869


Click image to enlarge
Good-looking image (engravature) of Union General Philip Sheridan. Carte has a minor trim across the top and some minimal age toning, none of which impacts the subject. The view is the classic shoulders-up picture of the controversial but militarily astute man. It would look fantastic in a frame with a Sheridan autograph.
Phil Sheridan saw his first combat before the Civil War in the Indian Wars of the Northwest. He was wounded in action during the Yakima War in 1857, but the injury was a minor one. By the time the Civil War rolled around, Sheridan was a Captain and he first served as a staff officer to General Halleck. He saw battle at Pea Ridge and Corinth and was then appointed Colonel of the 2nd Michigan Cavalry. At the small, but important, battle of Booneville, Mississippi, Sheridan performed brilliantly and was the subject of an urgent communique from several commanders urging General Halleck to promote him to Brigadier. This, he received. He took command of the 11th Division of the 3rd Corps at Perryville, where he and his men gave a good accounting of themselves. At Murfreesboro, Sheridan repulsed several furious Confederate attacks and only withdrew from the field when ammunition was exhausted. He was then promoted to Major General...a rank unheard of for someone who had been a mere captain six months earlier. The General would see further combat at Tullahoma, Chickamauga and Chattanooga, where he would prove instrumental in the Missionary Ridge victory.
Realizing Sheridan's genius, General Ulysses S. Grant ordered the subordinate to come east with him when he took command of the Army of the Potomac. From then on, Sheridan would have charge of Cavalry operations for the AOP. After a couple of defeats which Sheridan blamed on restrictions from higher-ups, General Grant released him to engage the enemy when and where Sheridan saw fit. His men would mortally wound J.E.B. Stuart at Yellow Tavern and notch a few other minor victories. But many other battles of the so-called "Overland Campaign" were either inconclusive or outright defeats. He would go on to adopt a scorched earth policy in the Shenandoah Valley that residents remembered bitterly for many decades after the war. Whatever the relative merits or flaws in Sheridan's service to this point, he would be rightly credited with the tactical moves at Sayler's Creek and Five Forks that would force General Robert E. Lee to Appomattox. There, Sheridan's men would block Lee's escape and effectively force the surrender. No less than General Grant himself said there was no general, living or dead, who could be regarded as better than "Little Phil" Sheridan.
The General's service continued in the later Indian Wars. Sheridan is often quoted as having said, "The only good Indian is a dead Indian". That attribution is now widely disputed by historians. Having established a home in Chicago, Sheridan lost all his personal papers in the Great Chicago Fire of 1871 even though his house was largely spared damage. Ironically, he would be placed in command of relief efforts for the city. He also served America in advocating tirelessly for the preservation of Yellowstone National Park.

General Sheridan died in 1888.
Shipping Weight: 0.2 lb
Your Price... $18.00 USD
---
Lincoln Secretary of War and Trusted Advisor Edwin Stanton

Item #: JMS-870


Click image to enlarge
Really crisp engraving-style CDV of Edwin M. Stanton. This one is in EXC condition with minor trims and no damage. This is original to the Civil War era but it is not a "from-life" photograph.
Stanton was an Ohioan, an attorney and an ardent Anti-Slavery Democrat. He was possibly the first attorney in history to successfully invoke the insanity defense in a criminal trial. Stanton defended future Union General Dan Sickles when he was charged with murdering the son of Francis Scott-Key. This was a wicked little love triangle sort of thing -- a real "movie of the week". At any rate, Stanton became Attorney General under President Buchanan and in 1862, President Lincoln would make him Secretary of War. It was Stanton who would say, on the night of the President's assassination, "Now he belongs to the ages". Stanton remained Secretary of War in the Andrew Johnson administration and when Johnson tried to have him removed, the President was impeached. He eventually resigned and was soon elevated to the U.S. Supreme Court. Unfortunately, the stalwart Ohioan would die just four days after receiving Senate confirmation.
IF YOU WANT TO ORDER AN ITEM…
(or just ask a question about it) please email me directly at cwartifax@gmail.com
Using the "Order Information" button right below the price USUALLY works, but not always.  I don't know why, but it could have to do with spam settings on either end. The easiest way to order or inquire about an item is simply to email me directly.  Again, my email address is cwartifax@gmail.com
(Sold)
---
CDV of Admiral Charles Wilkes -- A Fascinating Fellow!

Item #: JMS-878

Click image to enlarge
This is why I love this hobby so much.
You think you've read and absorbed so much information. But then a name or an event comes to your attention that you either didn't remember or maybe just missed the first time around! Charles Wilkes was a controversial and fascinating character before and during the Civil War. I'll offer more about him in a moment. But for now, just know that this CDV is a period engraving and not a "from-life" photo, which would cost significantly more. These engravatures were quite popular in their own right during and after the war. People collected them in albums and were even known to trade with their friends, much like I did as a kid with baseball cards. Today, the collector's first choice is usually a "from-life" photo...but these engravings are works of art in their own right and are frequently used when one is framing an autograph, artifact or other picture associated with the main subject.
It should be noted that the original owner of this image (someone in the 1860's, most likely) referred to him as "Gen." Wilkes in the pencil marking. This can be erased if you like. It is clearly a Naval officer in the image.
This CDV is in EXC-FINE condition with no damage whatsoever. There are period pencil ID's on front and back. And there's a very crisp maker's mark on the back. This one would frame up wonderfully with a clipped signature of the Admiral, a letter he might have written or a photo, engraving or drawing of one of his ships.
Wilkes was born in 1798 and was raised
(here's one of several things I was entirely unaware of!)
by his aunt, Elizabeth Ann Seton
. She was the very first American-born woman to be canonized by the Roman Catholic Church! What a connection! He worked with the incomparably brilliant Matthew Fontaine Maury in studying oceanography and developing related materials for the U.S. Naval Academy. Maury's work, which was at least partly based on Wilkes' studies, is still considered required reading for midshipmen! Wilkes first gained fame in his own right in 1838, when he was chosen over more seasoned officers to lead a U.S. Naval expedition to the southern oceans. Taking botanists, geologists, artists and other professionals, Wilkes commanded an expedition of six vessels on an almost four year mission of exploration and study! In January of 1840, Wilkes reported sighting the coast of an "Antarctic continent west of the Balleny Islands" --
this meant that then-Lieutenant Wilkes was the first man to confirm the status of Antarctica as a continent
. To this day, a disputed district of Antarctic territory is known as "Wilkes Land". (His gravestone at Arlington National Cemetary credits this discovery.) Wilkes became an American hero not quite on the level of Charles Lindbergh or Neil Armstrong, but his accomplishments were widely known and feted.
During the Civil War, Wilkes can reasonably be called the "prime mover" in the Trent Affair. This won him further praise in the north but much criticism in both the south and in Europe. Even President Lincoln was eventually pressured into apologizing for Wilkes' actions in Bermuda in 1862. Wilkes would later serve capably in command of the important James River Flotilla and would also see blockading duty in the West Indies. There is much debate about the sort of officer and commander Wilkes was. Some literary historians have posited that Wilkes was at least partially the inspiration for Herman Melville's obsessed and brutal "Captain Ahab". Some contemporaries suggested he was capricious and cruel. Others noted that much of this gossip might have been ginned up because of a dispute between Wilkes and Secretary of the Navy Gideon Welles. (The two of them exchanged barbs and insults via mail when Welles stated Wilkes was too old to be promoted to the rank of Commodore.
So much more can be said and reported about this intriguing man, but I'll leave further "exploration" to the purchaser of this crisp image. I have seen very few photos OR engravings of Admiral Wilkes for sale. You'll not likely find one in nicer condition!
IF YOU WANT TO ORDER AN ITEM…
(or just ask a question about it) please email me directly at cwartifax@gmail.com
Using the "Order Information" button right below the price USUALLY works, but not always.  I don't know why, but it could have to do with spam settings on either end. The easiest way to order or inquire about an item is simply to email me directly.  Again, my email address is cwartifax@gmail.com
Shipping Weight: 0.2 lb
Your Price... $29.00 USD
---
Crisp CDV of Fort Sumter General Robert Anderson

Item #: JMS-882

Click image to enlarge
This great image is from life and features the ill-fated Fort Sumter hero, Robert Anderson. The carte is in VG condition with no clips, creases or stains. There has been some trimming of the edges, quite possibly done at or shortly after manufacture. Often, 19th century collectors wanted to fit these into particular frames or albums and so you find them trimmed from time to time. This one still retains an even gold border and sharp corners. There is a period "Appleton" backmark. This is a very nice waist-up view of the famous General.
Robert Anderson's military career was a long one. He was wounded in battle during the Mexican War at Molino Del Rey...a battle featuring Generals named Winfield Scott, Ulysses S. Grant and Franklin Pierce! Despite his Kentucky roots and status as a slaveholder, Anderson supported the Union cause in the Civil War and commanded Union forces in the vicinity of Charleston, South Carolina at the outbreak of hostilities. When Anderson moved his garrison from Fort Moultrie to Fort Sumter, he came under an artillery barrage ordered by Confederate General P.G.T. Beauregard. Amusingly, Beauregard was Anderson's pupil at West Point. (I hope my current professors take note of this little historical tidbit!)
After Fort Sumter, Major Anderson was immediately promoted to Brigadier General and became one of the North's most famous heroes. He retired from military duty in 1863, ostensibly due to poor health. Anderson died in France in 1871 but is buried in West Point Cemetery. We also have for sale a stereoview image of Anderson's grave site. You might want to purchase both because they would make a delightfully frameable set!
Shipping Weight: 0.2 lb
Price Was: 85.00 $74.95 USD
---
From-Life CDV of General Thomas W. Sherman - WIA at Port Hudson

Item #: JMS-891


Click image to enlarge
For every Tom Sherman CDV you see, there are probably 500 William T. Sherman images! Granted, old Tom Sherman wasn't as famous, successful or as hated as the other Sherman. But he does have a pretty honorable record. Thomas W. "Tim" Sherman was first commissioned in wartime when he served in the 1861 Port Royal expedition. He commanded the ground forces while Naval operations were under Admiral DuPont. The success of Port Royal put Sherman in a positive light and he was given command over George H. Thomas's division during the battle of Corinth. Later, Sherman would lead a division into action at the battle of Port Hudson. It was during this ill-fated operation that the General would be critically wounded and forced to undergo the amputation of his leg. Despite this tragedy, "Tim" Sherman (his close friends reportedly called him "Tim") would hold administrative positions for the balance of the war, not retiring until 1870. This "tough-as-nails" soldier lived out his days in Rhode Island, where he died in 1879.
It should also be noted that Sherman was brevetted for heroism at the Mexican War battle of Buena Vista.
If you collect Union Generals, it might be awhile before you see another Tom Sherman image. This one is in G-VG condition. It's not the cleanest CDV and there's some age to it, but there are no trims, creases or clips. The backmark is an affixed label of the period. Best of all, the good General is holding his sword in the image and in full regalia.
Shipping Weight: 0.3 lb
Your Price... $89.00 USD
---
Awesome Quarter Plate Tintype of an Armed Union Officer

Item #: JMS-231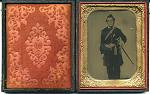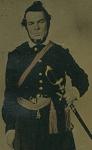 Click image to enlarge
Wonderful tintype in repaired (spine nicely taped) case, depicting a surly-looking Union officer. I believe he is holding a M. 1850 Staff and Field Officer's sword. His red sash is quite handsome and he has some sort of watch fob or chain that you can see, too.
Please note that the little white flecks you see on the subject's face (and the dot near his face) are on my scanner bed and NOT on this image.
Tin image might be the tiniest bit dark, but still better than 95% of what you see at shows or on eBay. Email with questions, but know that I CHEERFULLY refund the money of those who are unhappy with what they buy. You have a generous ten day examination period (most dealers offer three days). If unhappy for any reason, send it back and I will refund your money AND pay return shipping. How's that for fair?
Shipping Weight: 1 lb
Your Price... $350.00 USD
---
Superb Image of Confederate Soldier with Wishbone Buckle, Battle Shirt and Knife

Item #: JMS-009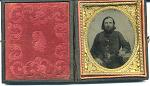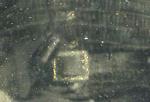 Click image to enlarge
They don't get much more Confederate than this. This unidentified Johnny is wearing a classic "battle shirt". You can see the handle of a large knife in his belt. Sure, I wish he had it drawn and displayed across his chest with a Spiller & Burr revolver, but this tintype isn't going to cost you five figures either! Best of all,
the fellow has what is unmistakably a Confederate "wishbone" buckle
!
The tintype has some scratches, especially out around the edge of the frame...not affecting our subject. Image is a tad dark. I brightened it just a smidge with my scanner, but I am sure you will be well-satisfied. If not, I will give you my standard 10-day return privilege plus an additional 10 days. Return it unaltered within 20 days of receipt for a full refund. I will even pay shipping both ways. My #1 goal is your satisfaction with every purchase.
Image is housed in a leatherette case with a split spine that has been repaired with old tape. Latch works just fine. Case is nice but not remarkable. The sums being realized for Confederate images where CS equipment is displayed are astronomical. The price below is EXACTLY what I paid for this piece.
Image and case come in a large Riker and the whole shootin' match will be well-packed.
IF YOU WANT TO ORDER AN ITEM…
(or just ask a question about it) please email me directly at cwartifax@gmail.com
Using the "Order Information" button right below the price USUALLY works, but not always.  I don't know why, but it could have to do with spam settings on either end. The easiest way to order or inquire about an item is simply to email me directly.  Again, my email address is cwartifax@gmail.com
Thanks!
Shipping Weight: 1 lb
Price Was: 995.00 $895.00 USD
---
Attractive CDV of Abolitionist Preacher Henry Ward Beecher

Item #: JMS-79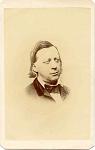 Click image to enlarge
This is an exceptionally clean CDV of the famed abolitionist. Beecher was renowned for his oratory and routinely drew crowds of 25 hundred or more during Sunday services. His opposition to slavery led him to raise funds to support the abolitionist cause in Kansas. Some of these monies were used to purchase firearms, which became known as "Beecher's Bibles". Beecher was the son of noted minister Lyman Beecher and the brother of Harriet Beecher Stowe, who authored "Uncle Tom's Cabin". Henry was also a committed supporter of women's suffrage and the temperance movement. This image is in perfect condition, but for the minute clips on each corner. No doubt, this was done a century ago...to accomodate insertion into an album. Beecher views are not particularly rare, but they are important to any Civil War or antique photo collection.
IF YOU WANT TO ORDER AN ITEM…
(or just ask a question about it) please email me directly at cwartifax@gmail.com
Using the "Order Information" button right below the price USUALLY works, but not always.  I don't know why, but it could have to do with spam settings on either end. The easiest way to order or inquire about an item is simply to email me directly.  Again, my email address is cwartifax@gmail.com
Thanks!
Shipping Weight: 1 lb
Your Price... $24.94 USD
---
Order Information
Please don't bother with the online order form. It doesn't play nice with some browsers and platforms. Order by emailing me at
cwartifax@gmail.com
or by calling 815-254-0144. Please no calls before 9 a.m. central time or after 8 p.m. central. Leave a message if you get our machine and I will return your call as soon as practicable. I prefer email orders as I am often away from the telephone, but if you're not one who likes to type, give us a ring.
Payment Information
Money orders; Personal Checks are fine. Checks are welcome but require a minimum of 7 business days to clear.
(Past customers with a proven track record of reliability have their items shipped before the check clears and usually within 48 hours of receipt, unless I am traveling.)
I do accept Pay Pal but an additional charge applies. I'll treat your check like cash.
I have a layaway plan for items over 1000 dollars but be sure you intend to pay in full. Here's how it works: You put one third down and pay the balance within 60 days. Failure to meet the deadline results in loss of down payment and forfeiture of item. A 90 day "lay awake" plan is available for orders over 5000 dollars.

Warranty Information
All items are 100% GUARANTEED to be authentic to the Civil War or whatever historical period ascribed to them in the description. All items are unrepaired, unless we clearly state there has been a repair in the description. I almost never deal in repaired buttons or plates, but if for some reason, I have one -- you will know it. If for any reason you are unhappy with the item just return it UNALTERED within 30 days for a refund minus shipping charges and, where applicable, commissions. As for Civil War authenticity, your item is not just guaranteed for 30 days. It is guaranteed for life.

If an item is deemed fake (I've not made a mistake on this count yet, but I am human), I expect confirmation from a recognized authority. I can supply you the names of reputable experts if you like. This applies, too, to items that might be deemed post-war.
A further word about "returns" -- I welcome them. In 17 years of doing this online, I've had just two items returned because a customer either was not satisfied or changed his or her mind for whatever reason. That speaks to the truth that I describe everything I sell thoroughly and accurately. But even with photographs, you may see an item differently once you get it. That's why you have 30 days to send it back...no questions asked. I do ask you to remember that dug relics are artifacts that have been in the soil for almost 150 years. So please do me the courtesy of being realistic. That said, YOUR SATISFACTION and MY INTEGRITY are my top priorities.

I do NOT charge a re-stocking fee. If a client abuses this privilege, I reserve the right to do so. But that hasn't been necessary yet!
Shipping Information
Shipping charges: $5.00 via USPS Priority Mail for all orders over $100.00. Heavier or large items will cost more, even via Priority. Small items like individual bullets or inexpensive paper can be mailed first class. That can sometimes be as inexpensively as a dollar! Media Mail is perfect for books and magazines. I will not, under any circumstances, ship via UPS or FedEx. I have just had too many bad experiences with them. In 17 years, I have shipped and received thousands of packages from the good old USPS. Not one has been lost and only one other has been slightly damaged.
If you live in the Greater Chicago area, arrangements can be made for in-person delivery of expensive items or large orders in most circumstances.
Insurance is not required, but strongly recommended on items over 100 dollars. I am not liable for lost or damaged items that are uninsured. My shipping charge to you is what the post office charges me. ABSOLUTELY NO HIDDEN "HANDLING" OR "PACKING" FEES!!! If, because of weight, I miscalculate and overcharge, I will issue a refund or credit -- whichever you prefer!! If I end up paying more than expected, that's just the price of doing business.
Pay Pal and Money order payments are shipped within 48 hours, unless I am out of town. Then, they are shipped as soon as I return. Personal checks are more than welcome but please know they require a minimum of 7 business days to clear (unless we have done business before -- then, I will ship as though your check is cash.) If you use Pay Pal, you will be required to add 3% to your payment. This is to cover costs assessed on me by Pay Pal for all auction and private treaty sales.

All firearms sold are pre-1898 and historic collectibles. They are not meant to be fired. Jim Stanley & Associates (cwartifax.com) will not be liable for injury incurred due to any weapon or artifact purchased from this site. All artillery projectiles sold by Jim Stanley & Associates are absolutely safe and have been professionally and safely de-activated.